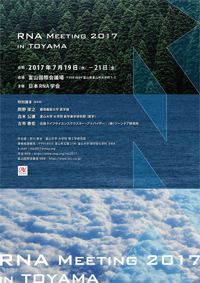 Thanks to all of you who have submitted an abstract to RNA2017 in Toyama. In order to maximise the opportunity for members to share the latest developments across the range of topics represented at the meeting, we are pleased to extend the deadline for abstract submission until 17:00, Friday 2 June (Japan standard time).
Please do not miss this opportunity.
The abstract submission was closed.
See you in Toyama!
Please visit the Meeting Website for more information.
Those who wish to submit an abstract must complete payment of the RNA Society of Japan annual membership fee for FY2017 and early pre-registration to attend the Meeting.
We recommend using credit card for the payment of the annual fee and registration fee, because your membership status will be activated immediately after the payment.
Paying by bank transfer will take about a week to confirm the payment and activate your membership status.