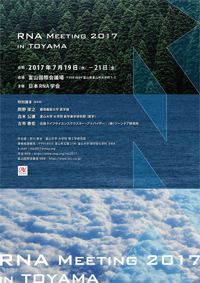 Abstract Submissions for RNA Meeting 2017 in Toyama has been open since April 24.
Abstract Deadline : Friday, May 26
Early-Registration Deadline : Friday, June 30
We look forward to seeing you at RNA2017 in Toyama.
Please visit the Meeting Website for more information.
Those who wish to submit an abstract must complete payment of the RNA Society of Japan annual membership fee for FY2017 and early pre-registration to attend the Meeting.
Members-only fee is applicable to active members of the RNA Society of Japan. For the on-site registration with the Member-only fees, you will be asked to show your "Membership Status" in "My Account" (login required) on your smartphone or printed matter at the registration counter.
Note: The web sites of RNAJ and RNA Meeting 2017 will be temporarily closed from 9:00 a.m. on Friday, May 6 (Japan Standard Time) for maintenance. Thank you for your cooperation.